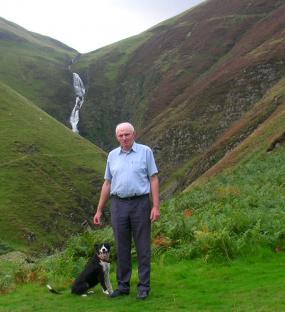 I started running Sheepdog Training Courses in the early 1990's while working with Teagasc as Agricultural Adviser. As part of my job I wrote press articles on various Agricultural matters for the local press. As I had been working and training Sheepdogs since my secondary school days I decided to write a series of articles on training the farm dog which were published in the Roscommon Herald.
There was keen interest in my articles and I had many queries regarding training Sheepdogs from farmers in so I decided to advertise a Sheepdog Training course for farmers and I got over fifty applications for the course in Roscommon. This was the first course of its kind held in Ireland whereby participants brought along their dogs and were given individual tuition on training their own dog.
Training Courses
I put on three courses with indoor class sessions showing videos on training and had one field session. The outdoor sessions proved to very successful where participants brought along their dogs. The courses developed into a series of field lessons for trainer and dog of a half hour approximately duration. Five training lessons were held at two week intervals over an eight week period. The handler practiced at home in between sessions. Progress was evaluated at each session and individual advice and training exercises for the next session were outlined.
Over the last 15 years I have completed thirty three courses nationally in counties Meath, Dublin, Carlow, Wicklow, Kilkenny, Laois, Offaly, Galway, Mayo, Sligo, Leitrim, Kerry and Roscommon. The total attendance was over 300 participants. The courses were very successful with demand coming without advertising. This course was very practical in giving the participants the knowledge of how to go about training their own dog. Usually by the third day of training the dog and the handler were acquiring the skill to work sheep in a controlled manner, using proper commands and working the dog in a way they never worked before. These courses had a big influence on reducing labour workload in sheep farming and improving the skills of Irish farmers in working their dogs.
As a result of this training course many sheep farmers have gone on to set up alternative enterprises on their farms breeding and training sheepdogs. Many participants have gone to compete at Nursery and National trials. Three participants have won the Farmers Class at the Irish Sheepdog Nursery Finals, Thomas Fannon, Sean Flynn and Joe Scahill.
Demonstrations
I have demonstrated the art of Sheepdog Training at many National shows and Sheep Events all over Ireland including The Tullamore Show, and The International Sheepdog Trials when it was held in Kilkenny and Teagasc National Events. My courses have featured on Ear to the Ground and Nationwide TV programmes. I have represented Ireland twice at International Sheepdog Trials, The World Trials in Tullamore and The Centenary International Sheepdog Trials in Kelso.
Rockland Sheepdog Training Centre
The training courses are now run at my farm at Rockland, Taughmaconnell, Ballinasloe, and County Roscommon I am centrally located in Ireland mid way between Athlone and Ballinasloe where I have developed a Sheepdog Training centre with well fenced training paddocks, circular training pen and Sheepdog Trials Course to suit the experience of the handler and the dog.